Leads So Good - Vimeo Will Be Jealous!
Instantly download local leads from any part Of The World:

pre-qualified and ready for you.

Complete info on every lead:

easily with just a click.

Build-in leads manager:

tag and save leads for follow up later

Cold email sender:

send fully formatted emails from right inside the app

Outreach tracker:

Tracks opens and clicks to optimize your outreach.

Commercial License:

Right out of the box we show you how to start earning with multiple methods.
One-Time Payment | No Monthly Fee | Epic Bonuses Included
PROOF: It took us only 30 Seconds and One Click To Generate 500 Leads From New York, Paris, Barcelona, Tokyo, Delhi, Los Angeles, Sydney, & Berlin!
One-Time Payment | No Monthly Fee | Epic Bonuses Included
Doors are opening everywhere, and customers want to go out and shop again!
53% Of Adults Now Feel Very Comfortable & Safe In Physical Stores
The study also found that 49% of shoppers are now spending
MORE
in physical stores than pre-Covid levels. You can't afford to miss out on this profitable trend!
Most Local Businesses Are NOT Ready For The New "Clicks To Bricks" World We Are In.
32% of brands said they'll be starting or increasing their retail presence this year. 31% of brands said they are expanding their physical retail store footprint this year! That means brands that moved online previously will be coming back to stores. This is a huge opportunity for local businesses. If they are ready. We have the tools to help you get local businesses ready to profit in this new world…and to put some money in your pocket too!
(Source: Forrester Consulting)
Labor Shortage Continues. Local Businesses Need Automation and New Ways To Reach Customers
Job postings are nearly 57% higher than pre-pandemic levels. More people are back to work, but still not enough. This has the biggest impact on local businesses who need employees to be there every time the doors are opened. A powerful, complete on-line presence will fill in those employee gaps. Driving traffic and creating buzz on-line. We'll show you how you can discover those pain points and offer those highly-profitable services to every local business in every city in the world.
Are you ready to not only survive, but adapt to the new realities we are facing? Do you see the profit potential in helping local businesses move into the new post-pandemic economic realities?
Keep reading and we will show you how you can thrive in 2022 and beyond...
You Have A Few Choices If You Want To Generate Local Leads:
Hey, Neil & Taqi here,
​
Leads are the
lifeblood
of any business. Whether they be people walking in the door to your dentist office, or
clients paying
you to create their website.
​
Between the two of us we've tried every method under the sun to generate leads,
quality
leads. 
​
But for me (Neil) it wasn't until I realized how
important
it is to verify and qualify my leads that I saw a major uptick in my profits.
​
No longer was I just "building a list", now I was building a business. 
​
A
future
for me and my family. 
​
When you
solve
someone's problem and show them how they can
earn more
money with your
solution
, they are more than
willing
to pay you. 
​
Again and again.
​
I've been solving problems and profiting from it for more than ten years. Now I'm going to show you how you can do it. 
​
How you can use the very
latest technology
to bring solutions to the hundreds of thousands of small businesses out there. Solutions that will
transform
their businesses
and
make you money. 
​
I'll show you how to
ethically
provide services to businesses that will
thank you
for the opportunity to
pay you
for your work.
Stop by a local Coffee Shop. Grab a cup of java and chat with the manager… how much will you spend on coffee just to generate ONE lead?
Just start Google-ing Coffee Shops and grab every email address on their page. You're going have legal problems in most Countries
Local lead gen agencies will gladly sell you local leads. This will get very expensive, very quickly.
All these methods are time consuming and expensive. 
Starting TODAY I Am Going To Give You A Software To Generate Quality Local Leads, ON DEMAND, In Any Part Of The World At A Ridiculously Low Price and with just…
Now what if there was an easier way to generate local leads on demand, figure out how you can help them and email them instantly?
You Can Easily Start Generating Qualified Leads For Yourself or to Sell As A Profitable Lead Gen Biz
Nothing To Download/Install
No Expensive Database Software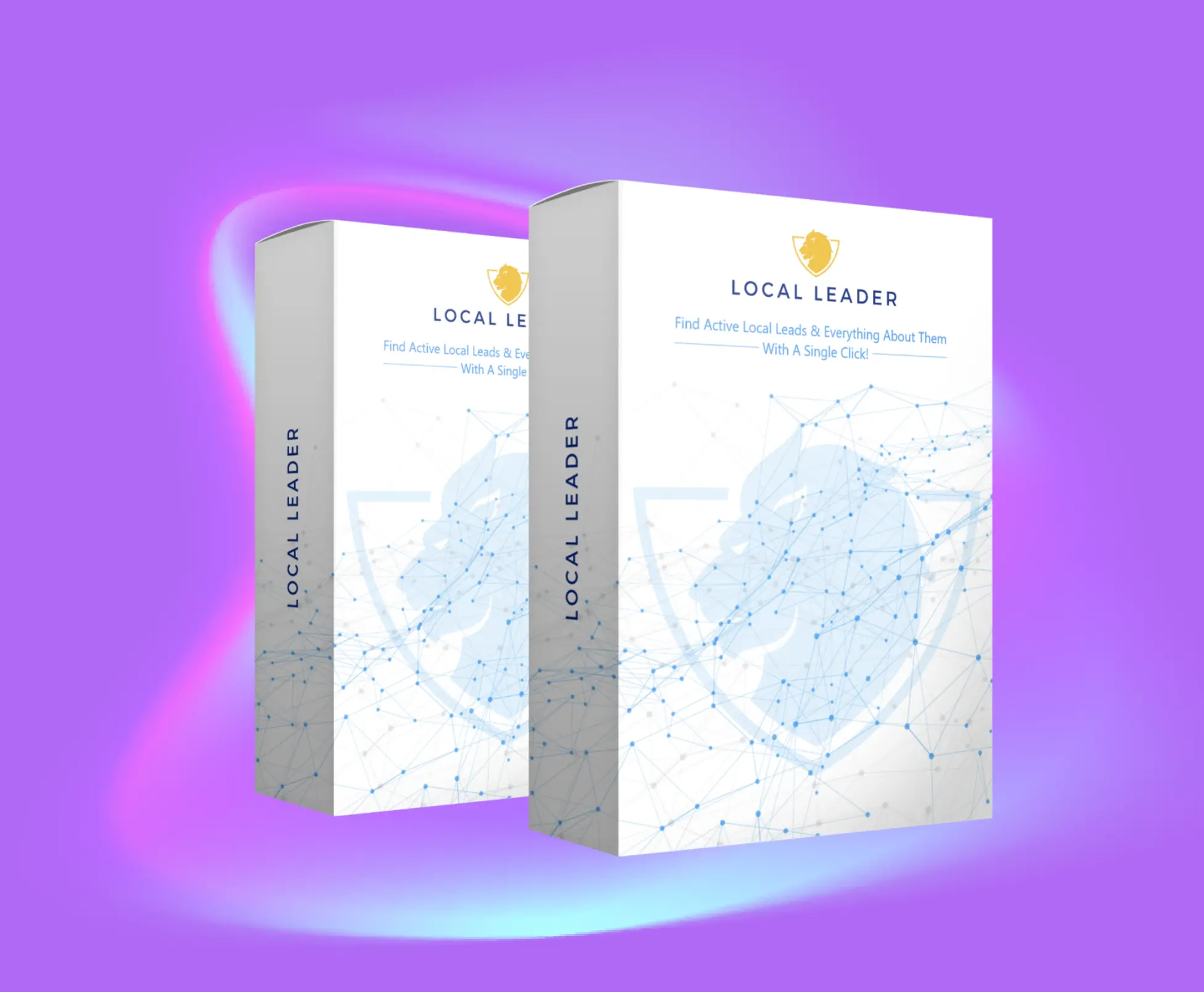 I'd Like To Welcome You To The MOST POWERFUL Lead Gen Software That Delivers Leads On Demand With ONE SINGLE CLICK …
424% More Highly Qualified Leads Than Scraping
These leads are just random "@" symbols on a page. You'll know all about the inner workings of their online presence and how to profit from it.
Powerful Search That Is Constantly Updating
We don't search off of a list from 2018. We constantly update our list with fresh data gathered for every search.
Deep-Crawling Engine With 20+ Data Points
We don't leave anything to chance. We go deep on each and every lead so you know exactly how to approach every lead.
Our search engine looks for businesses in your niche. We don't scan every Facebook Fan page. We are laser focused on local business leads.
Precise Filtering Feature
Only see what you are actually looking for. We don't clutter your search results with "maybes" only big "YES's"
One-Time Payment | No Monthly Fee | Epic Bonuses Included
Local Leader Works In Just
Local Leader's easy to use interface allows you to enter your search terms for any type of business, in any part of the world.
Our powerful Deep-Crawling Engineutilizes nearly 20data points EVERY TIME you search to qualify and validate your prospects data to give you accurate pain points that you can sell to
Local Leader will send an email to your targeted and now qualified prospect to offer to provide the service that they are most in need of.
You get these powerful insights with just a little digging in Local Leader.
You can then find the targeted, qualified leads and dig even deeper for MORE pain points that you can turn to MONEY!
Anyone can
dig for gold.
But odds are you'll never find any without
the right tools. 
Go on and start digging holes…
good luck!
It's the same thing with finding
qualified local leads
that WANT to
hire you.
Start knocking on doors….good luck!
Again, odds are you'll never find any without the right tools.
Local Leader is the
BEST tool
you can use to find local business "gold". 
Day after day. 
City after city. 
All over the world.